Central Phoenix Homes Changing The Landscape Of The City
Have you noticed the changes in downtown Phoenix. Every piece of raw dirt is being built on. Homes in need of renovation are soaring in price due to the demand for Central Phoenix Housing. Central Phoenix Homes are changing the landscape of the city right before our eyes. This home located at 1516 E CAMBRIDGE AVE, Phoenix, AZ 85006 is no exception. If you're looking for new blended with historic this gem has it all. Master builder Earl Bakken poured his mind, body, & heart into this well planned renovation and home addition. The results are nothing short of stunning.
Then & Now for this Pilcher Place Property
The Original Pilcher Place bungalo was a tiny 2 bedroom, one bath and only 974 square feet. There are a-lot of these homes in the Coronado Historic area in Central Phoenix. That works fine for some, but many who want to have Big city life want more. So, our builder Earl was faced with a choice. He could renovate what was there or he could upgrade and expand this great property. Lets take a look at what Earl did.
Abracadabra......Like Magic the House more than doubled in Size.
That's right. Mr Bakken's first, and most important decision was to bet that there would be people wanting more space. He immediately took his plans to the City and got approval to turn his little bungalow into an expansive 3 bedroom 2 bath home that is now 2,025 square feet.
Kitchen's and Bathrooms and Floors, Oh My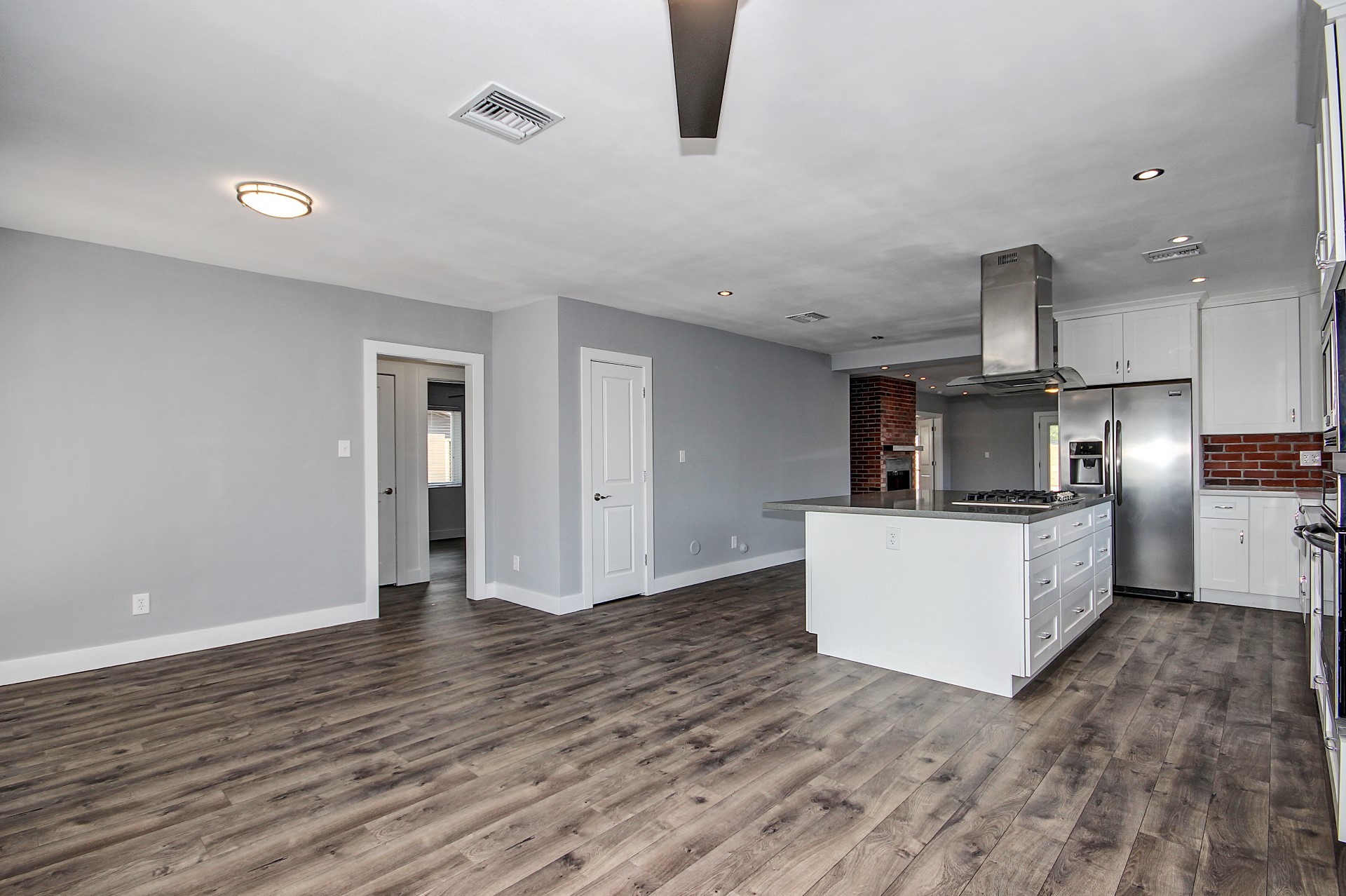 Take a close look at the results. They're nothing short of spectacular. This home is kind of thing that makes commuting from Gilbert Arizona less necessary. Many who bought homes in the outlying metro cities were looking for new construction. Many home buyers shudder at the thought of having to renovate an old home. It looks good on HGTV, but reality is that the notion of renovating a home while going to a 9-5 job and raising a family is more of a nightmare than a dream. It's people like Earl, who are turning the tide from commuting from afar to making downtown living a reality.
What ate the Centerpieces of this gem? A great kitchen, beautiful bathrooms, and attractive designer floors head up the list. Not to be unmentioned are all the details that make this property the head-turner that it is today. There's brick, stone, and wood. There's Ceasar Stone tops with a stainless farm sink. White cabinets. Plank wood floors. Even a soaker tub in the master bath.
Buy Your Central Phoenix dream Home Today
Come tour this beauty today. Text or call me at (480) 442-3501 to arrange your private showing. When this home sells look to our Phoenix Home Search for more options. Call me to discuss your property plans. I'll be honored to help you reach your real estate goals.
Author:
John Cunningham
Phone:
602-558-3843
Dated:
November 9th 2016
Views:
850
About John: ...